JESSI
Texas. Jessi, 35, lives a boring life.
Waitress in a small town. No family, no past, no future.
Until the day she meets with Chloe. Fifteen, a runaway girl with an attitude, she is convinced to know the truth about Jessi's past. One night, Jessi discovers unsuspected fighting skills, after a failed robbery at the diner. With the help of Chloe, she'll soon find out her true identity as a lethal assassin. As her mysterious past comes back to haunt her, Jessi becomes a threat for her former trainer and his henchman. Hunted, Jessi goes on a perilous journey of self-discovery and surviving.et, consectetur adipiscing elit. Ut elit tellus, luctus nec ullamcorper mattis, pulvinar dapibus leo.
THE KILLING MACHINE
Writers: Pablo Barbetti  / Julien Prud'homme
Producer: Don Clovis , JOYTO FILMS UK LTD
Synopsis:  In the ex-British colony of Hong Kong, the world is changing fast and even ancient traditions struggle to survive. A young girl, Maggie, is training to become the perfect killer under the teaching of Sam, a fearless member of the Zu triad.
Few years later, as HK is celebrating the year of the Ox, Maggie executes her latest contract by killing a member of the Chin triad who was stealing money from the Zu.
A meeting is then organized between the Zu and the Chin, the two major triads in the city. But instead of easing the tensions, the meeting does nothing but bringing back the memory of a previous conflict that broke out 15 years ago after the killing of Chen, the former Dragon Head of the Chin. And as history repeating itself, Wong, the current head of the Chin gets killed by Sam during the meeting.
Nick and Simon, two policemen who have been on Sam's trail for many years, are in charge of the case.
Mark, the new strong man of the Chin, decides to bring back Yuan, Chen's son, to Hong Kong in order for him to claim his father's inheritance and bring back power to the Chin. But Stanley, once a close friend to Chen, doesn't seem thrilled by this idea.
Yuan lived in Bangkok for many years and is reluctant to walk in his father's steps.
Yuan and Maggie, lost souls in a permanently changing city, will cross their paths looking for answers and truth hidden behind the traditions and obscurity of the triad world.
"If you can't change your fate, change your attitude" (Chinese proverb).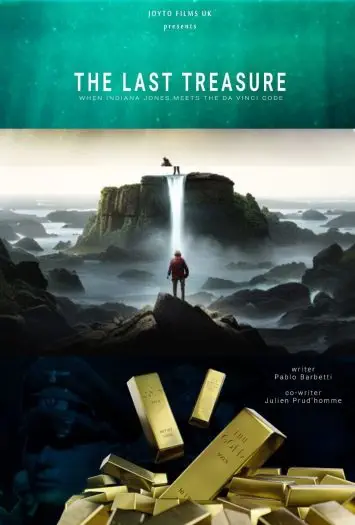 LOGLINE
A shy and fearful little bookworm embarks on a race for a mythical treasure while facing Neo-Nazis.
PITCH ( french)
Perdu depuis plus de 70 ans, le trésor de Rommel fait partie de ces mythiques légendes. A Paris, Ethan, rat de bibliothèque timide et peureux, se lance à la recherche de ce trésor qui a hanté les pensées de sa famille depuis deux générations. Aidé par les enfants d'Henri Hudson, célèbre aventurier américain et dernière personne à avoir pu localiser le trésor, ils remontent la piste tracée par une série d'indices qui va les mener dans les Dolomites en Italie puis à une base secrète en Arctique avant de les ramener dans un couvent en Corse. Mais ils ne sont pas les seuls intéressés. Pourchassés par une organisation secrète, prête à tout pour les arrêter, Ethan va affronter d'incroyables dangers et faire preuve d'un courage insoupçonné. Ce périple, marqué par de surprenantes révélations, conduira Ethan vers le trésor le plus extraordinaire… le DERNIER TRESOR.

LOGLINE English
A shy and fearful little bookworm embarks on a race for a mythical treasure by confronting Neo-Nazis.
PITCH
Lost for more than 70 years, Rommel's treasure is one of those mythical legends. In Paris, Ethan, a shy and fearful bookworm, starts in search of this treasure which has haunted the thoughts of his family for two generations. Helped by the children of Henry Hudson, famous adventurer American and last person to have been able to locate the treasure, they follow the trail traced by a series of clues that will lead them to the Dolomites in Italy and then to a secret base in the Arctic before bringing them back to a convent in Corsica. But they are not the only ones interested.
Chased by a secret organization, ready to do anything to stop them, Ethan will face incredible dangers and show unsuspected courage. This journey, marked by surprising revelations, will lead Ethan to the most extraordinary treasure… the LAST TREASURE.